Welcome to the NGA Pro Athletes Gallery
Long time NGA show promoters, Francine and Andrew Bostinto, welcome men and women athletes to share their accomplishments. Andrew is president and founder of the National Gym Association (NGA).
Congratulations from all of us at NGA to you!

>>> back to NGA Pro Athletes Gallery. See NGA GALLERY FORM to join... it's free!
Jodi McLaughlin - Pro Bikini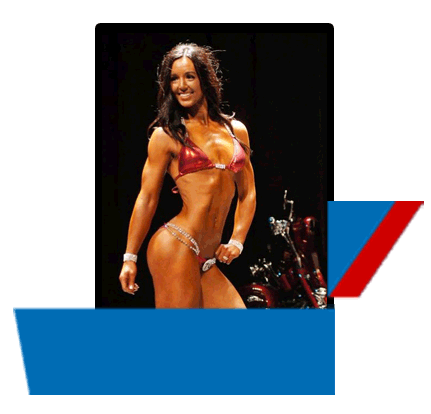 Jodi McLaughlin - Pro Bikini
Personal: Married, 2 children
Email: jodi.mclaughlin@yahoo.com
Facebook: Jodi McLaughlin
State (residence): Nebraska
Available for posing exhibitions and/or seminars: Yes
Occupation: Product Development at Complete Nutrition
Hobbies: Fitness & Whole Food Nutrition
NGA Pro Athlete: Bikini Model
Pro Athlete Training: 2010
Year Turned PRO: 2014
Stats: Height: 5' 5" Weight: Preshow 135 Weight: Show 124
WINNINGS/PLACINGS:
2014 NGA Sioux Empire: 1st Place Bikini B
2014 NGA Sioux Empire: Overall Bikini Champion
2014 NGA Sioux Empire: Pro Card Recipient
Certificates: Certified Fitness Nutritionist
Education: College Graduate
BIO: As a mother of two boys, my children look to me as their primary female role model, which is a responsibility I take very seriously. I want my sons to see the power of a female who prioritizes her health in the hopes that they will someday choose a wife with similar values. Working in the industry that I do, I see firsthand what can happen to families who deal with poor health through poor choices; low self-esteem, negativity, blame, neglect, and avoidable expenses can easily arise out of preventable illness, and I of course do not want my children living in that kind of environment at any point in their lives.
I believe that people deserve to see their bodies perform at the highest possible level, as the human body is a machine that is designed to be healthy and strong. I am very passionate at fueling my body through whole foods for ultimate nutrition and absorption, which unfortunately can take a backseat to supplementation, processed/artificial foods and flavors, cleanses, and meal replacements. Participating in bodybuilding has given me a public avenue to inspire many others in my various networks, which for me is the best part!
I am very thankful for the NGA specifically, as this organization provides an outlet for natural athletes who wish to participate in bodybuilding events that focus on health and fitness, not cosmetic appeal, politics, or sexuality. For these reasons specifically, I chose to become an NGA athlete. I very much look forward to competing at the Pro level in mid-2015.