Welcome to the NGA Promoter Gallery
The National Gym Association comprises a board of directors and faculty staff that include Medical Directors, PhD's, Masters in Medical Biology and Nutrition, Promoters, Personal Trainers, Current Bodybuilding Champions and many more. All are dedicated to the betterment of all-natural, drug free bodybuilding and providing world class certified professional fitness training programs.

>>> back to NGA Promoters Gallery. See NGA GALLERY FORM to join... it's free!
Medina Roberts - NGA Promoter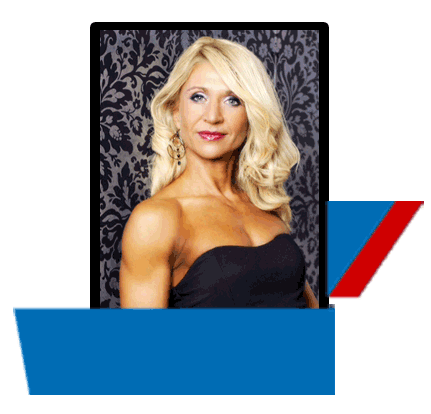 Medina Roberts - NGA Promoter
Personal: Married, children
Facebook: mandmxtrem, NGAHistoric
State (residence): Virginia
Available for posing exhibitions and/or seminars: Yes
Occupation: Gym owner, President and co-founder of M&M Xtreme, LLC, personal training business M&M Xtreme Training for Xtreme Results
Hobbies: Painting, bodybuilding
Years as a NGA Promoter: First year
Number of Shows Produced: Sport & Health Club in Fredericksburg, VA and served as Fitness Director from 2007-2013
NGA Personal Trainer: 10 years, Master Fitness Trainer
Certificates:
NASM, WITS and AAAI / ISMA Certified Personal Trainer
IFTA, AAAI / ISMA Cycling Instructor
Dynamax Certified Instructor
Flexibility Training Specialist
Sport Nutrition Consultant
Education: College graduate. Holds certifications in sports nutrition and a background in chemistry.
Years of Pro Athlete Training: Pro Figure -12 years
She became an IFPA pro and NGA pro all in her first year of competion.

2013 NGA Pro Universe - Placed 4th Figure Pro
2012 IFPA Pro Bowl Richmond - Placed 5th Figure Pro
2009 May OCB Pro Card Figure and Masters
2007 Mt Rogers Figure Class Winner and Pro Card for Figure Awarded
YEAR TURNED PRO: 2007
STATS: Height 5' 2"

BIO: Medina Roberts is passionate about eating right and helping others achieve their health goals. She greatly loves her family and is also an artist in the Fredericksburg community through Brush Strokes Gallery.
Her fitness career began in 2004 as a personal trainer then Fitness Director (2007-2013) through Sport & Health and then has evolved within the last year when she began her own business.
She specializes in preparing clients who are getting ready for bodybuilding shows by designing unique exercise and nutrition plans that are catered to each of their specific needs. This method sets her apart as well as many of her exercises and her diet plans.