Welcome to the NGA Pro Athletes Gallery
Long time NGA show promoters, Francine and Andrew Bostinto, welcome men and women athletes to share their accomplishments. Andrew is president and founder of the National Gym Association (NGA).
Congratulations from all of us at NGA to you!

>>> back to NGA Pro Athletes Gallery. See NGA GALLERY FORM to join... it's free!
Amanda Crawford - Pro Bikini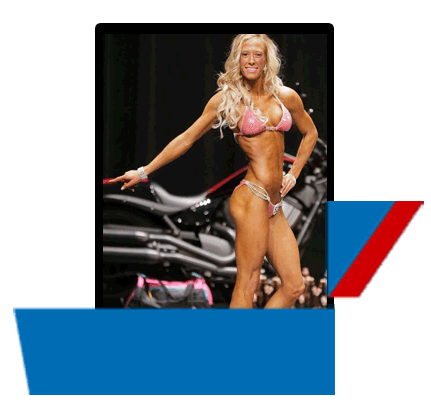 Amanda Crawford - Pro Bikini
Personal: Single, no children
Place of Birth: Kankakee, IL
Email: amandacrawford75@icloud.com
Facebook: AmandaMariaCrawford
State (residence): Illinois
Available For Posing Exhibitions and/or Seminars: Yes
Occupation: Bar Manager
Hobbies: Playing pool, working with animal rescues, spending time with my pitbull and rabbit.
Favorite Movie: Alice in Wonderland
Favorite Actor: Jennifer Aniston
Favorite Band: Pistol Annies
Favorite Performer: Kellie Pickler
Food: Spaghetti
Favorite TV Show: Reba
Training Since: 01/2016
Year Turned PRO: 2016
Stats: Height: 5' 4" Weight: Preshow 112 Weight: Show 105
Education: HS Graduate, and College Graduates
Best Body Part: Glutes
Most Challenging Body Part: Quads
Favorite Exercise: Anything Abs
Least Favorite Exercise: Cardio
Traits You Admire Most In Others: I admire all of the inspiration I get from family, friends, and supporters.
Traits You Admire Most In Yourself: Dedication and Determination
WINNINGS/PLACINGS:
2016 NGA Heart of America:
• Bikini Debut 1st Place
• Bikini Short 1st Place
• Bikini Overall Winner
BIO: I am a graduate from the University of St. Francis, with a Bachelor's in Biology. I currently manage the bar that my family owns and hope to get my certification in personal training very soon. I like work with animal rescues to help find animals forever homes, but like to specialize in finding homes for pitbulls. I have one pitbull and one Holland Lop Rabbit at home that I love to cuddle with every night.