Click on the links below to see a complete list of winners from previous shows. Congratulations to everyone! Please E-mail us the link to your Past Contest Winners page so we can post your results here for FREE! Become an NGA Member.
We also post show results in the NGA NATURALmag, The National Gym Association, Inc. (NGA) magazine. NGA NATURALmag is intended to share informative news and encourage natural athletes that you don't have to take drugs to be a competitive athlete. In each issue we will share stories of extreme accomplishments, training tips, NGA contest results, competition strategies, and many other avenues for a healthy lifestyle.

NGA Celebrating Over 44+ Years!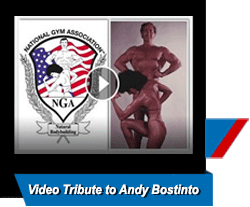 November 15, 2014 Francine Bostinto surprised her husband Andy with her tribute video to mark the 35th anniversary of the NGA.
Andy was very honored and moved. "Thank you for such a heartfelt presentation, it's certainly something I will never forget."
Please take a minute to read Francine's tribute speech to her husband Andy.
"Even if you're not an NGA athlete, take a minute to watch the video to the left. It is a moving tribute to Andrew from his dedicated wife, Francine. They are two wonderful people who combined their talent and love and crafted a meaningful life and business. Very inspirational!"
- Janelle Rosenfeld.