Welcome to the NGA Pro Athletes Gallery
Long time NGA show promoters, Francine and Andrew Bostinto, welcome men and women athletes to share their accomplishments. Andrew is president and founder of the National Gym Association (NGA).
Congratulations from all of us at NGA to you!

>>> back to NGA Pro Athletes Gallery. See NGA GALLERY FORM to join... it's free!
Ashley M. Robinson - Pro Bikini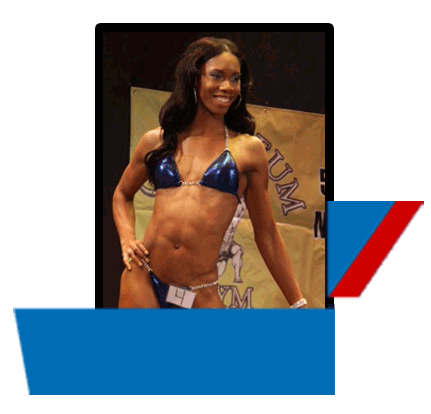 Ashley M. Robinson - Pro Bikini
Personal: Single, no children
Place of Birth: Somerset, NJ
Email: Ashleymr94@gmail.com
Website: instagram.com/lionessasseyy_/
Facebook: billy.jo.397
State (residence): New Jersey
Available For Posing Exhibitions and/or Seminars: Yes
Occupation: Student - a criminal Justice major
Hobbies: I love traveling.
Favorite Movie: Bob Marley Documenta
Favorite Actor: Taraji P. Henson
Favorite Performer: Chronixx
Food: Welch's Farm Fruit Snacks :)
Favorite TV Show: Family Feud
Training Since: 2015
Year Turned PRO: 2015
Stats: Height: 5' 10" Weight: Preshow 145lbs.Weight: Show 135lbs.
Education: HS Graduate, some College
Best Body Part: There is a tie between my abs and back.
Most Challenging Body Part: My most challenging body part are my legs.
Favorite Exercise: I enjoy working arms. I love running! Before I became serious with competing, I ran in the event of Hurdles in Track & Field.
Least Favorite Exercise: I have a love/hate relationship with legs. I feel like legs take forever in the gym and I feel like I am sore forever after leg day.
Traits You Admire Most In Others: I admire honesty in other people. My life longest friends are individuals whom always give me the truth. Whether the truth is positive or negative, the truth always seems to motivate me.
Traits You Admire Most In Yourself: I enjoy my ability to adapt to almost any situation that is thrown my way.
WINNINGS/PLACINGS:
2017 NGA PRO Universe – PRO Bikini Open, 2nd Place

2017 NGA PRO/AM North Jersey & Women's Extravaganza Championships – PRO Bikini Open, 1st Place

2016 NGA PRO/AM Garden State Championships – PRO Bikini Open, 2nd Place

2015 NGA Natural New Jersey State Open Bodybuilding, Figure, and Bikini Championships / NGA Pro World Championships
•1st Place Bikini Debut
•1st Place Novice Bikini
•1st Place Open Bikini Tall
•1st Place Overall Bikini
BIO: Besides going to the gym and sitting in class all day, I seriously enjoy spending time with my younger brothers, traveling, listening to reggae, and of course shopping.
I am a Criminal Justice major with high hopes of positively connecting with our trouble youth and lead them on a positive path. Eventhough I plan to land a career down that field, my ultimate dream and goal is to open a studio gym. I want to help transform lives. The reward of helping people obtain their goal will be so fulfilling.