Welcome to the NGA Pro Athletes Gallery
Long time NGA show promoters, Francine and Andrew Bostinto, welcome men and women athletes to share their accomplishments. Andrew is president and founder of the National Gym Association (NGA).
Congratulations from all of us at NGA to you!

>>> back to NGA Pro Athletes Gallery. See NGA GALLERY FORM to join... it's free!
Cassidy Walters - Pro Bikini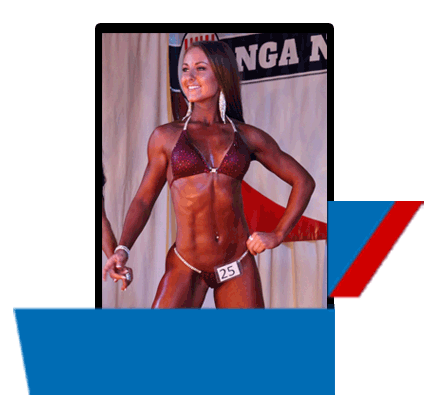 Cassidy Walters - Pro Bikini
Personal: Single, No children
Place of Birth: Charleston, SC
Email: cassidyw234@gmail.com
Facebook: Cassidy Walters
State of residence: Illinois
Available For Posing Exhibitions and/or Seminars: Yes
Occupation: Student
Hobbies: Lifting, traveling, hiking, paddle boarding, playing piano
Favorite Movie: Elf
Favorite Actor: Ryan Gosling
Favorite Band: The Chainsmokers
Favorite Performer: Post Malone
Food: Adam's Peanut Butter Cup Fudge Ripple Cheesecake
Favorite TV Show: Shameless
Training since: 2011
Year Turned PRO: 2017
Stats:
Height: 5' 2"
Weight: Preshow 129
Weight: Show 110
Education: HS Graduate, Some College
Best Body Part: Glutes
Most Challenging Body Part:Shoulders
Favorite Exercise: Heavy Sumo Deadlifts
Least Favorite Exercise: Squats
Traits You Admire Most In Others: Someone who is genuine and positive
Traits You Admire Most In Yourself: I can take any situation and see the positive side of it!
WINNINGS/PLACINGS:
At the NGA show in East Peoria on Oct. 28, 2017 I won first in Bikini Novice and first in Bikini Open Class A. I received my pro card. I got second in overall Bikini.

BIO: I believe that the process of building your body is one of the most rewarding things you could do for yourself. Fitness and health has been a huge part of my life thanks to my parents who have always worked out and ate healthy. I have been working out since I was 13 and I am so proud of the physique that I have built!