Welcome to the NGA Pro Athletes Gallery
Long time NGA show promoters, Francine and Andrew Bostinto, welcome men and women athletes to share their accomplishments. Andrew is president and founder of the National Gym Association (NGA).
Congratulations from all of us at NGA to you!

>>> back to NGA Pro Athletes Gallery. See NGA GALLERY FORM to join... it's free!
Denise Gilbert - Pro Bikini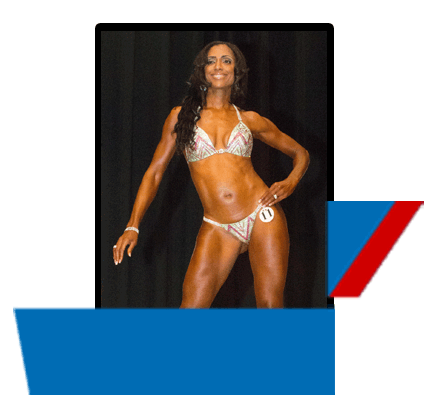 Denise Gilbert - Pro Bikini
Personal: Married, Children
Email: keigilbert0416@gmail.com
State (residence): Virginai
Available for posing exhibitions and/or seminars: Yes
Occupation: CEO/Systems Engineer
Hobbies: Fitness, Traveling, Shopping
NGA Pro Athlete: Bikini Model
Pro Athlete Training Since: 2013
Year Turned PRO: 2014
Stats: Height: 5' 7.5" Weight: Preshow 140 Weight: Show 120
WINNINGS/PLACINGS:
NGA Fredericksburg National Show: 1st place Bikini Masters 35+, 1st place Bikini Masters 40+, 2nd place Bikini Open, 3rd place Bikini Novice
NGA Fredericksburg VA/DC Show: 3rd place Bikini Masters 35+, 1st place Bikini Masters 40+, 4th place Bikini Open, 5th place Bikini Novice.
NGA Annapolis: 3rd place Bikini Open
Certificates: Microsoft Certified Systems Administrator Server 2012
ITIL v3.0 Foundations
Education: College Graduate
BIO: I was born and raised in Florida. I joined the US Army in 1994 and traveled the world before settling in Virginia in 2000. I am happily married with 5 kids. I also have a Bachelor's Degree in Computer Information Systems and is the CEO of KDA Consulting, a successful IT Consulting firm in the DC area.
My hobbies include fitness, traveling, shopping and spending time with my family and friends.