Welcome to the NGA Pro Athletes Gallery
Long time NGA show promoters, Francine and Andrew Bostinto, welcome men and women athletes to share their accomplishments. Andrew is president and founder of the National Gym Association (NGA).
Congratulations from all of us at NGA to you!

>>> back to NGA Pro Athletes Gallery. See NGA GALLERY FORM to join... it's free!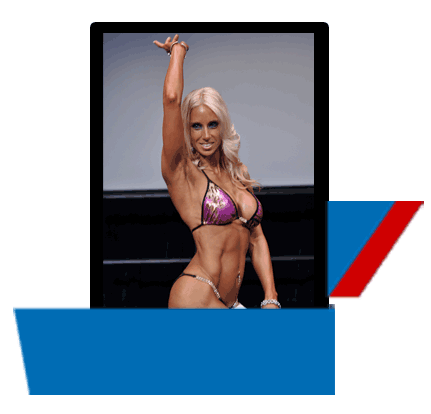 Eva Markou - Pro Bikini
Personal: Single, 2 Children
Years of Training: 18 months
Stats: 5'4". Pre-Contest: 118 lbs. Contest: 113 lbs.
Email:evamariebb@gmail.com
Facebook ShesGotAWhey
Occupation: Licensed Manual Therapist
Hobbies: Competing in bikini competitions
PRO SHOWS:
Bikini Debut 5/19/2012 1st Place
Bikini Open 5/19/2012 !st Place

I am a single mother of two beautiful girls who keep me very busy. My profession allows me to treat all levels of athletes providing manual therapy to prevent and heal musculoskeletal injuries and postural imbalances.

I took four months to prepare for my first show. I have to admit winning was the most satisfying achievement following the birth of my children and I am totally hooked!

After months of contest prep and depriving my sweet tooth, I decided to create a new business geared toward the nutritionally conscious. SHES GOT A WHEY featuring STF (at) U cupcakes for gluten free, sugar free high protein cupcakes.