Welcome to the NGA Pro Athletes Gallery
Long time NGA show promoters, Francine and Andrew Bostinto, welcome men and women athletes to share their accomplishments. Andrew is president and founder of the National Gym Association (NGA).
Congratulations from all of us at NGA to you!

>>> back to NGA Pro Athletes Gallery. See NGA GALLERY FORM to join... it's free!
Gabriela Dominguez - Pro Bikini
, Pro Bikini Model, Pro Master Bikini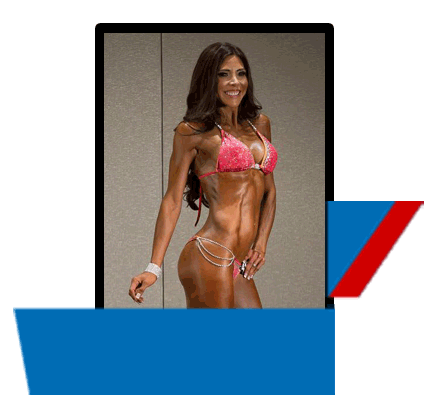 Gabriela Dominguez - Pro Bikini, Pro Bikini Model, Pro Master Bikini
Personal: Married, 2 children
Place of Birth: Guadalajara, Mexico
Email: gabyfraser2011@hotmail.es
State (residence): Florida
Available For Posing Exhibitions and/or Seminars: Yes
Occupation: Homemaker, mother of two children
Hobbies: Exercising and cooking
Favorite Movie: Ghost
Favorite Actor: Al Pacino
Favorite Band: Hillsong United
Food: Japanese, lobster, seafood
Favorite TV Show: Law and Order, Dexter
Training Since: 2003
Year Turned PRO: 2015
Stats: Height: 5' 4" Weight: Preshow 124 Weight: Show 120
Education: College Graduate
Best Body Part: Glutes and legs
Most Challenging Body Part: Arms
Favorite Exercise: Squats
Least Favorite Exercise: Biceps curls
Traits You Admire Most In Others: Driven, positive people
Traits You Admire Most In Yourself: Energetic, positive and persistent
WINNINGS/PLACINGS:
NGA Night of Champions-1st Place Debut
NGA Night of Champions-1st Place Novice
NGA Night of Champions-1st Place Open
NGA Night of Champions-1st Place Overall
Certificates: University of Health and Fitness, National Gym Association
BIO: Graduated with a Bachelor's Degree in International Finance in Guadalajara, Mexico. Since elementary school I've always interested in sports such as basketball, track and field, and gymnastics. In University I modelled, runway events and gave fitness classes on TV. In 1999 I represented the state of Jalisco in the Miss Mexico pageant," Nuestra Belleza de Mexico".

I've always been interested in health, nutrition, and fitness as they allow you to feel and look your best. After having my kids in 2004-2005 I became interested in weights and how they defined and shaped my body. I also began reading more about nutrition and healthy eating choices for both myself and my family.

In July of 2015, I decided to my fitness journey to the next level and enter the NGA Night of Champions in Miami. After six weeks of preparation I won 1st place in Bikini Debut, Novice, Open and Overall class and earned my pro card. I was thrilled, surprised, and happy with my results. I know this is only the beginning and there's more to accomplish. We all have a gift that God has given us and I know there is more to learn and sacrifice. I love to share and help others and be an inspiration to moms and working women. Living a healthy lifestyle allows us to be strong and enjoy a longer life.

My next short term is to do great at the NGA Pro/Am Universe in November in the Pro bikini division. My long term goal is become a model in the fitness industry and become a Certified Trainer and Nutritional Coach.