NGA - PRO ATHLETES GALLERY
Welcome to the NGA Pro Athletes Gallery
Long time NGA show promoters, Francine and Andrew Bostinto, welcome men and women athletes to share their accomplishments. Andrew is president and founder of the National Gym Association (NGA).
Congratulations from all of us at NGA to you!

>>> back to NGA Pro Athletes Gallery. See NGA GALLERY FORM to join... it's free!
Jenny Chadima - Pro Bikini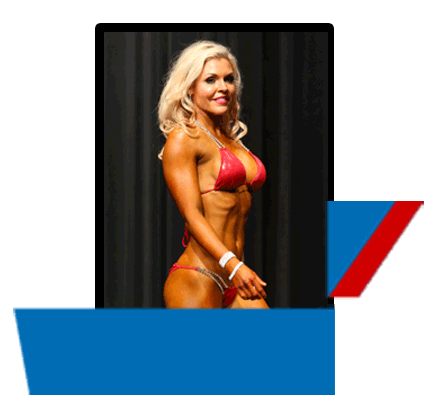 Jenny Chadima - Pro Bikini
Personal: Married, 1 child
Place of Birth: Cedar Rapids, Iowa
Email: jennychadima33@gmail.com
Website: jennychadima@arbonne.com
Facebook: Jenny Chadima
State (residence): Iowa
Occupation: Business Manager
Hobbies: Consultant with Arbonne, working out, yoga, reading, volunteering, spending time w/ friends and family
Favorite Movie: The Holiday
Training Since: 2012 with coach Ken McClelland at the Anvil Gym
Year Turned PRO: 2015
Stats: Height: 5' 5" Weight: Preshow 125 Weight: Show 120
Education: HS Graduate
Best Body Part: The boo-tay :)
Most Challenging Body Part: Quads---personally I feel they have been the toughest body part to build.
Favorite Exercise: ...Pretty much anything that has to do with building the glutes!
Least Favorite Exercise: ...Leg extension?...Or walking lunge (that exercise takes forever).
Traits You Admire Most In Others: A loving, giving spirit
Traits You Admire Most In Yourself: An open mind and heart :)
WINNINGS/PLACINGS:
All in the bikini category:
1st place- 2013 NANBF Nutrisport Classic (and overall for the Iowa division)
1st place (and overall)- 2013 NANBF Best of the Midwest
1st place- 2013 OCB Midwest States
1st place- 2014 NANBF Southern States Classic
1st place (and overall)- 2014 NANBF Nutrisport Classic
3rd place- 2014 OCB Midwest States
1st place (overall & pro card)- 2015 NGA Titan Classic
Certificates:
2013- Best Female Poser, Best of the Midwest
2014- Best Female Poser, Nutrisport Classic
BIO:
"Your smile is your logo, your personality is your business card, how you leave others feeling after having an experience with you becomes your trademark."
I'm all about spreading love & happiness :)