Welcome to the NGA Pro Athletes Gallery
Long time NGA show promoters, Francine and Andrew Bostinto, welcome men and women athletes to share their accomplishments. Andrew is president and founder of the National Gym Association (NGA).
Congratulations from all of us at NGA to you!

>>> back to NGA Pro Athletes Gallery. See NGA GALLERY FORM to join... it's free!
JoJoy Mahaffy - Pro Bikini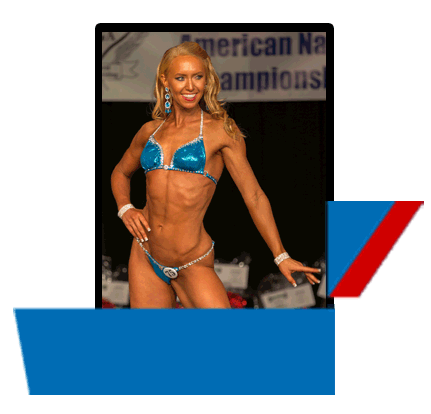 JoJoy Mahaffy - Pro Bikini
Personal: Single, no children
Place of Birth: California
Email: jojoy@jojoyfitness.com
Website: www.jojoyfitness.com
Facebook: facebook.com/jojoyfitness
State (residence): California
Available For Posing Exhibitions and/or Seminars: Yes
Occupation: Personal trainer, actor
Hobbies: Skateboarding, snowboarding, surfing, yoga
Favorite Movie: The Life Aquatic with Steve Zissou
Favorite Actor: Parker Posey
Favorite Band: Led Zeppelin
Food: Fresh food!
Favorite TV Show: The Office
Year Turned PRO: 2014
Stats: Height: 5' 8" Weight: Preshow 135 Weight: Show 130
Personal Trainer Since: 2012
WINNINGS/PLACINGS:
2014 NGA Ms. Bikini California
2015 3rd Place NGA Pro Bikini Universe
Certificates:
Awarded "Best of SF" by San Francisco Magazine for Personal Training
Collegiate All-American Snowboarder
Collegiate Soccer National Champion
BIO: My fitness philosophy is, "Do What Moves You!" I understand how valuable fitness is to help you to excel at life and in the activities you love.
I know from years of training myself and others that the first step to moving anything you want in your life is to start with what moves your heart. Without that it's impossible to lift a finger, let alone pick up a weight.

​ONCE THE MUSCLE IN YOUR MIND IS FIRED UP AND MOVED WITH EXCITEMENT, ANYTHING IS POSSIBLE!
I come from a long line of PE teachers and grew up competing in gymnastics and playing sports. I workout because the better my fitness is, the better I can enjoy my two favorite activities, skateboarding, performing, and helping others feel better.