Welcome to the NGA Pro Athletes Gallery
Long time NGA show promoters, Francine and Andrew Bostinto, welcome men and women athletes to share their accomplishments. Andrew is president and founder of the National Gym Association (NGA).
Congratulations from all of us at NGA to you!

>>> back to NGA Pro Athletes Gallery. See NGA GALLERY FORM to join... it's free!
Sunni Rochell Ewing - Pro Bikini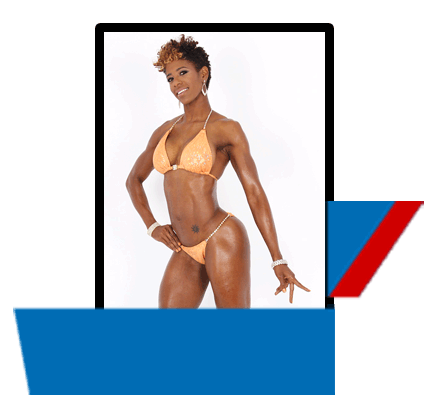 Sunni Rochell Ewing - Pro Bikini
Personal: mother of 2 wonderful children
Facebook: TheSunniEwing
State (residence): Texas
Available For Posing Exhibitions and/or Seminars: Yes
Occupation: Teacher/Coach/Middle School Teacher
Hobbies: Dancing
Favorite Movie: Four Brothers
Favorite Actor: Taranj P Henson
Favorite Performer: Beyonce
Food: All food
Favorite TV Show: Power
Training Since: 2010
Year Turned PRO: 2015
Stats: Height: 5' 4"
Best Body Part: Back Abs
Most Challenging Body Part: Hamstrings
Favorite Exercise: Lat Pull Downs
Least Favorite Exercise: Squats
Traits You Admire Most In Others: I admire people who follow their dreams and passions and have a strong foundation in their beliefs/faiths
Traits You Admire Most In Yourself: Proving to myself that aginst all the odds, no matter how hard it can be, I can succeed.
WINNINGS/PLACINGS:
2014 NPC Lackland Classic
3rd Place Open, 7th Place Masters Bikini, NPC Team Universe National Qualification
2015 NFF Texas Shredder - 7th Place - Open Bikini
2015 NFF Dropzone Pysique Showdown - 4th Place Open Bikini
2015 NGA South Texas Championship - 1st Place Open Bikini, Overall Womens Champion,Overall show champion
BIO: I am a San Antonio native who now lives in Houston,Texas. I am a middle school teacher, coach and mother of two wonderful children. In my part-time, I am a personal trainer. I fell in love with body building in 2010 when I did my first show and by 2014 I was head-first into this industry, I live by one motto and that is that "Work hard, play hard....then work harder."