Welcome to the NGA Pro Athletes Gallery
Long time NGA show promoters, Francine and Andrew Bostinto, welcome men and women athletes to share their accomplishments. Andrew is president and founder of the National Gym Association (NGA).
Congratulations from all of us at NGA to you!

>>> back to NGA Pro Athletes Gallery. See NGA GALLERY FORM to join... it's free!
Holly Stanbrough - Pro Bodybuilder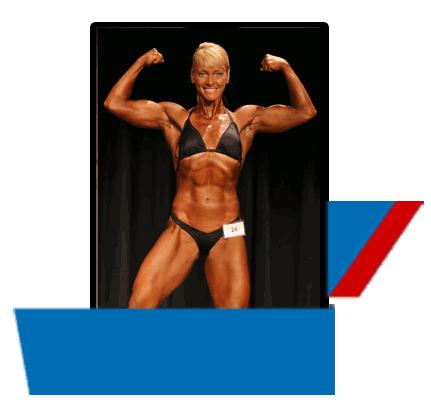 Holly Stanbrough - Pro Bodybuilder
Personal: Divorced, children

Email: paintbydesign07@aol.com
Website: www.paintbydesignstore.com
State (residence): Indiana
Available for posing exhibitions and/or seminars: Yes
Occupation: BSN/RN/FN Director of Risk and Regulatory for Eskenazi Health and Midtown Mental Health Services
Hobbies: Write Inspirational Poetry and Daily motivational quotes. Currently working on publishing my second book. Own a horse farm and - my daughter and I raise and show APHA ( Paint) horses.
NGA Pro Athlete: Master Bodybuilder, Female Bodybuilder
Years of Pro Athlete Training: 6
Year Turned PRO: 2003
Stats: Height: 5'7"; Weight: Preshow140 Weight: Show 130

WINNINGS/PLACINGS:
I currently hold my pro card in both NGA and IFPA - However I have also competed in Figure and Physique on the amateur and national level winning my won PRO Card for IFPA Natural Woman's Bodybuiding September 2011.
*IFPA PRO Bodybuider
*Top 5 at Master Pro Cup S.t Louis, MO 2012
* National Figure Qualifier 2011
* National Figure Jr Qualifier 2011
* National Womans Bodybuilder Qualifier 2011
* Champion Muscle Classic Womans BB - Ft Wayne 2011
* Champion at Indiana Muscle and Hoosier Muscle 2011
* Champion at Midwestern States in open and masters 2011
* Top 15 in Womans Physique at the IFBB North American Championships - Cleveland 2011
Education: College Graduate
Certificates: Life accomplishments:
* Published Author
* Nominated for the CNN 2010 Hero's Award
* Approved ~ National Fundraiser for Multiple Sclerosis
* Motivational speaker
* Top 100 sexiest Fitness Models -Status Fitness Magazine
Features surrounding my FIGHT with MS:
* Featured in RX Muscle/Rx Girl
* Featured in MuscleDog.com
* Featured in KickAss Woman "Turning Heads"
* Featured in IFitFamily
* Featured in Inspirational Bodies
* Featured in International Actress/Models
* Made the cover of AOL.com
BIO: There is several ways I could describe myself : Mother – Sister – Career Woman – Published Author – Pro Bodybuilder – Fitness Model BUT the one that describes me PERFECTLY with the MOST honors is, I'm a SURVIVOR. I train hard at the gym but train HARDER at life!! I cherish the gift of living it rather than simply taking it...Living with a chronic illness gives a new meaning of life to me.
October 21st 2002 is a day I will NEVER forget... A life once seen as full of HOPE was NOW full of FEAR and DOUBTS as my Neurologist explained to me – "Holly, you have Multiple Scleroses". I felt like disappearing – I knew the partial vision loss – loss of speech and sentence construction and ability to drive and walk; was no longer just a strange mystery it was my new fate, I realized I would be facing a long journey battling this often depilating and divesting illness. The fear I experienced that day was paralyzing. I felt I was losing total control of my life, the goals, the dreams I had were fading before my eyes. I felt powerless in this diagnosis. I simply couldn't grasp what horrible thing I had done to deserve this, why me? I simply shrunk inside and felt like a coward, felt I had no fight left, the courage I had always found during adversity, was gone. My emotions were overwhelming, engulfed me and directing me to a place that was dark, the harshness of this reality was difficult to face. I felt I was losing control of my life, the goals, the dreams I had were quickly fading.
After many months of soul searching and looking for the answers to "why" to work through and recognizing the "self pity" I was feeling, I began to see there was only one person that would make the decision in allowing this illness to destroy me – and that was ME! I began to concentrate on my diet and exercise program searching for answers. My journey opened a new way of life for me, a new way to look at the future. I began a fierce determination to beat this disease, to live my dreams and be impactful in the future. This journey allowed me to look holistically at my health, encompassing my exercise program, diet and taking control of my life.
Prior to my diagnosis with MS, I was diagnosed with Degenerative Disc Disease, from a near fatal car accident at the age of 17, leaving me with chronic lower back pain and years of struggles to be physical. I sought out many treatments: physical therapy, injections, medications etc, with little to no relief. I began riding Horses, utilizing and stretching my lower back seem to be the most impactful. However not truly until the diagnosis of MS did it really hit me, the health, my ability that I knew, I didn't' truly respect it as a gift, it wasn't something just owed to me. Therefore this newer diagnosis, this new challenge made me really look deep at what more I could be doing "Holistically" to improve the quality of my life, focus on the symptoms I suffered daily and try to effect change. With a more holistic approach with diet changes, core muscle and fitness training, reducing my fat intake, increase my protein and lean meats, careful review of my vitamins and increase my fluid intake, allowed me to holistically impact my physical and mental health.
I suffered chronic fatigue, joint and muscle pain, difficulty with concentration, cognitive issues making spelling and sentence construction often difficult. A loss of taste and vision filed interpretation due to a 6th nerve palsy as a result of optic never damage from my original onset of MS. I didn't' approach my physical and mental health holistically, as something that would impact my symptoms, putting all the pieces together like a puzzle creating the best plan for me and my illness, until I meet face to face with my fitness challenge…. My life began to change week by week and my symptoms began to be less and less. Today I sit in amazement at how different my life is – how different is it from what I thought it would be or could be on October 21st 2002. I now celebrate LIFE – I celebrate MS for giving me "eyes" to see the GIFT of LIFE.
It seems competing just evolved for me. The more involved I was at the gym – meeting and interacting with others – I became more and more interested in taking my training to a different level and challenge myself. I wanted to learn more about combining the diet + training as the nutrition was such a interesting piece of science to me that I felt really had the potential of impacting my symptom control to another level. I thought ... why not apply it to actual competing. Possibly I would learn more about my body and chemistry and possible be impactful in a bigger arena with not only my health but to others. Eleven years ago, I questioned my future - my ability to walk – talk and see, each time I step up on stage, it becomes overwhelming, the sense of what the true 'Gift of life" is and knowing that someone's life maybe touched by my story as I step on stage as a IFPA PRO Woman's Bodybuilder... The WIN to me is NOT the ribbon – trophy or status -The WIN is defined by stepping and giving some HOPE! I don't see myself as any different as the competitor than stand next to me – as I truly DON'T know the battles they have overcome or may be facing that has brought them hear today. All I know is "YES" MS is a trying illness – often times it's the winner, if we believe this is how it will always be and we begin to BELIEVE it won't be defeated..... NEVER forget that the way life looks today is NOT how life will always look like. I would have NEVER imagined my life to be what it is today when I was diagnoses in 2002... Now I stand on stage as an IFPA PRO – it's almost unthinkable to many and it's WAS unthinkable to me at one time – Friends, I BELIEVE in BELIEVEING!
I'm a true believer in the power of BELIEVING. When you BELIEVE you see some of the most amazing things. The ability to experience living the true gift of LIFE! Friends' believing is living with vision. Seeing the never ending palette of color the world has to offer. DREAM and BELIEVE with me, invest in you, invest in your health, invest in believing in yourself, is one of the most powerful decisions you will ever make, one which will impact all aspects of your life - physical, mental, and emotional.
I believe in HOPE ~ it holds our hand on the darkest days, it helps us see our dreams when we have lost vision, it allows us to sing when we have lost the song.... HOPE, allows us to make a path, where we never seen a road, we walk with the foot of faith, a road once not seen becomes into existence because of HOPE! Hope keeps the soul alive - with it we are never alone.
With much appreciation,
Holly Stanbrough
"Changing the FACE's of MS to HOPE"
Thank you!