Welcome to the NGA Pro Athletes Gallery
Long time NGA show promoters, Francine and Andrew Bostinto, welcome men and women athletes to share their accomplishments. Andrew is president and founder of the National Gym Association (NGA).
Congratulations from all of us at NGA to you!

>>> back to NGA Pro Athletes Gallery. See NGA GALLERY FORM to join... it's free!
Joe Daily - Pro Bodybuilder, Pro Master Bodybuilder
, NGA Promoter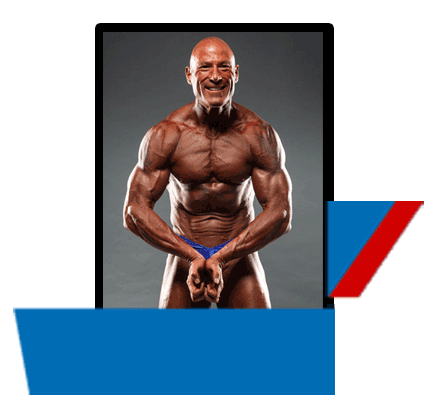 Joe Daily - Pro Bodybuilder, Pro Master Bodybuilder
Personal: Married, 2 children
Place of Birth: California
Email: joedailyracing@gmail.com
Website: dailfitbody.com
Facebook: @idahofitness
State of residence: Idaho
Available For Posing Exhibitions and/or Seminars: Yes
Occupation: Gym Owner/Personal Trainer
Hobbies: Weightlifting, Stockcar Racing, Fishing, Hunting, and Camping
Favorite Movie: Goonies, The Godfather
Favorite Actor: Vin Deisel
Favorite Band: Five Finger Death Punch
Favorite Performer: Garth Brooks
Favorite Food: Sushi
Favorite TV Show: This Is Us
Promoter Since: 2019
NGA Promoter Since: 2019
Training since: 2014
Year Turned PRO: 2019
Stats:
Height: 5' 11"
Preshow Weight: 215 lbs.
Show Weight: 189 lbs.
Personal Trainer Since: 2011
Education: College Graduate
Best Body Part: Legs
Most Challenging Body Part: Abs
Favorite Exercise: Deadlift
Least Favorite Exercise: Lunges
Traits You Admire Most In Others: Integrity, determination, kindness, cooperation, optimistic, and persistence.
Traits You Admire Most In Yourself: determination, persistence, kindness, fairness, and cooperation
BIO: Born in 1971, I live in the great state of Idaho. I stay in shape so I can keep up with my two growing boys and be able to hunt, hike, and fish in the backcountry. I have always been an athlete, but like many after college and getting married I found my self wearing larger waist pants and shirts. I decided to get myself back in shape and test to be a police officer. In 2004 I started my career in law enforcement and realized the physical and mental demands of the job required me to be in great physical shape. I turned that passion into becoming the PT instructor for my department, which graciously paid for my trainers certification through the Cooper's Institute. We are given one body for the entirety of this life why not make it the best it can be. I have since left law enforcement and opened Daily Fit Body, which is a private gym and training center. I also promote the NGA PRO/AM Clash of Champions every May in Boise Idaho. Keep crushing it and inspire those around you!