Welcome to the NGA Pro Athletes Gallery
Long time NGA show promoters, Francine and Andrew Bostinto, welcome men and women athletes to share their accomplishments. Andrew is president and founder of the National Gym Association (NGA).
Congratulations from all of us at NGA to you!

>>> back to NGA Pro Athletes Gallery. See NGA GALLERY FORM to join... it's free!
Holly Nilles - Pro Figure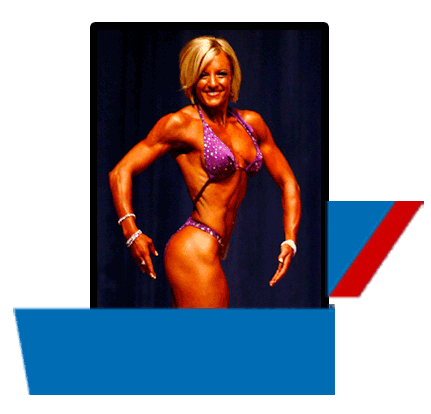 Holly Nilles - Pro Figure
Personal: Married, 2 Children
Email: hummingbirdhol@yahoo.com
Pro Athlete Training since: 2011
Year Turned PRO: 2012
Occupation: Business Office Manager
Hobbies: training, time with my husband and boys and two boxer dogs
STATS:
Height: 5' 0"
Pre-Contest Weight: 112 lb.
Contest Weight: 106 lb.

PRO SHOWS:
2012 - NGA TITAN CLASSIC, Short ClassWinner
2012 - NGA TITAN CLASSIC, Overall Winner
BIO: Thanks to the many blessings from our Lord above, the love and support of my husband Eric, lots of cheerleading from family and friends, and perhaps a bit of peer pressure, I was introduced to the sport of Figure Competition in the fall of 2011. My first show was the OCB Midwest States Figure Competition in Dekalb, IL on November 19, 2011, and as luck would have it, I ended my day that day celebrating a Figure Novice Overall win and a new-found enjoyment of the sport of bodybuilding and being physically fit.
It didn't take too long after that competition to realize I had been bitten by the competition bug. After hearing and learning of so many great things associated with the NGA, I became a member and set out for my second career competition at the NGA Heart of America in Peoria, IL on May 12, 2012. A second-place class finish was motivation enough to push harder (and try to grow just a bit bigger) for my next competition.
The NGA Titan Classic in Des Moines, IA on June 23, 2012 came quickly, and I was as nervous as ever! The stage is not my favorite place to be, but training for it is, so I was bound and determined to show the judges I was there for a reason. It was there where I won the Figure Short Class and the Overall Figure Open; and there where I was handed the beloved white envelope bearing the words "Pro Card" on the front.
As a Business Office Manager, most of my time during the day is spent behind a desk, so needless to say when I am not working, I enjoy being active, especially if it involves the training associated with competing. Aside from enjoying exercise, I love spending time with my husband and with our boys and our two boxer dogs.