Welcome to the NGA Pro Athletes Gallery
Long time NGA show promoters, Francine and Andrew Bostinto, welcome men and women athletes to share their accomplishments. Andrew is president and founder of the National Gym Association (NGA).
Congratulations from all of us at NGA to you!

>>> back to NGA Pro Athletes Gallery. See NGA GALLERY FORM to join... it's free!
Stacey Morris - Pro Figure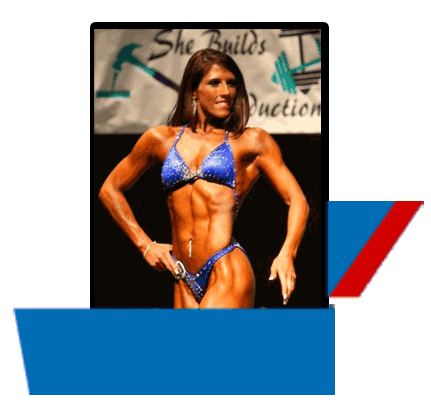 Stacey Morris - Pro Figure
Personal: Married, No Children
Pro Athlete Training since: 2010

Year Turned PRO: 2012
Occupation: Military
Hobbies: Figure, triathlons, running, motorcycles, camping and hiking

PRO SHOWS:
NGA Grand Teton Invitational - April 2012
1st in Open Figure Short-Amateur
Overall Open Figure
ABFF Treasure Valley Axiom Natural - March 2012
2nd in Open Figure Short-Amateur
NGA NW Natural Fall Show - October 2011
2nd In Open Figure Short-Amateur
NGA Flex Fitness - October 2011
5th in Open Figure Short-Amateur
BIO: Ever since I joined the military in 2004, fitness has been a part of my life. I'm an avid runner and had the opportunity to represent the Air Force in 2010 and 2011 at the Air Force Half Marathon. I've won/participated in numerous races both short and long distances (5k to full marathon). After meeting the love of my life, we participated in the Boise 70.3 half Ironman Triathlon and have a goal of completing the 140.6 full Ironman Triathlon. I was initially given the idea of figure competitions from a friend (who is also a bodybuilder) while deployed to Iraq in 2008. It wasn't until summer of 2011 when I was approached by a fellow gym rat about competing in figure that I took the plunge. I am thankful for those that have influenced me to compete and those that support me daily, particularly my boyfriend and workout partner. I enjoy spreading the word of fitness and helping others achieve their goals and aspirations.