Welcome to the NGA Pro Athletes Gallery
Long time NGA show promoters, Francine and Andrew Bostinto, welcome men and women athletes to share their accomplishments. Andrew is president and founder of the National Gym Association (NGA).
Congratulations from all of us at NGA to you!

>>> back to NGA Pro Athletes Gallery. See NGA GALLERY FORM to join... it's free!
Greg Olivia - Pro Male Physique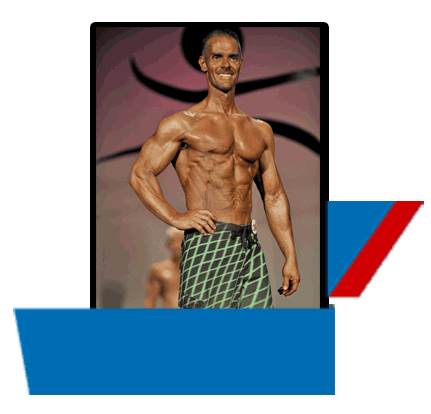 Greg Olivia - Pro Male Physique
Personal: Single, children
Email: gjolivia@gmail.com
State (residence): Texas
Available for posing exhibitions and/or seminars: Yes
Occupation: Educational Administration
Hobbies: Being the best father I can be to my three wonderful boys and setting an example for them of the benefits of a healthy lifestyle.
NGA Pro Athlete: Male Physique
Years of Pro Athlete Training: 30
Year Turned PRO: 2013
Stats: Height: 5' 9"; Weight: Preshow170 Weight: Show 158

WINNINGS/PLACINGS:
Purebody Nutrition Extravaganza
1st Overall - Men's Masters
1st Overall - Men's Physique

BIO: Although I've been competing in bodybuilding and physique competitions since I was 16, it is also very important to me to promote exercise and good health to those around me. I want to be a positive role model for my family as well as all I come in contact with. I've learned a few things over the years in regards to fitness . . . you have to be disciplined in all aspects of your life as well as your health; you need to be consistent. A healthy lifestyle is a marathon, not a sprint.; and you need to maintain good nutrition and a proper eating lifestyle. This will determine 90% of your success or failure in your quest for good health and fitness.