Welcome to the NGA Pro Athletes Gallery
Long time NGA show promoters, Francine and Andrew Bostinto, welcome men and women athletes to share their accomplishments. Andrew is president and founder of the National Gym Association (NGA).
Congratulations from all of us at NGA to you!

>>> back to NGA Pro Athletes Gallery. See NGA GALLERY FORM to join... it's free!
LaDarrius C. Sanders - Pro Male Physique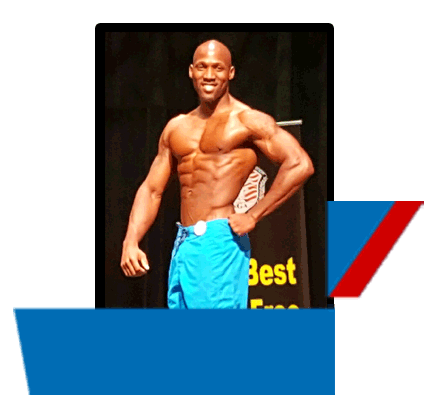 LaDarrius C. Sanders - Pro Male Physique
Personal: Married, children
Place of Birth: Birmingham, Alabama
Email: theLadFit@gmail.com
Website: www.LaDarrius.com
Instagram: Instagram @la_dfit
Facebook: ladarrius.c.sanders
State (residence): Florida
Available For Posing Exhibitions and/or Seminars: Yes
Occupation: Bank Branch Manager, Minister, Rapper, Motivational Speaker
Hobbies: Interior decorating, family time with wife and son
Favorite Movie: American Sniper
Favorite Actor: Denzel Washington
Favorite Band: Derek Minor
Favorite Performer: Bruno Mars
Food: Chicken Caesar Salad
Favorite TV Show: Game Of Thrones, The Office, Love It or List It
Training since: 2016
Year Turned PRO: 2017
Stats:
Height: 6' 2"
Weight: Preshow 195
Weight: Show 179
Best Body Part: Abs and Smile
Most Challenging Body Part: Lat Spread
Favorite Exercise: Weighted Sit-Ups or Ab Roller
Least Favorite Exercise: Cardio (Stair Master)
Traits You Admire Most In Others: Respect, Friendliness, and Courtesy
Traits You Admire Most In Yourself:Loving
WINNINGS/PLACINGS:
2nd Show June 10, 2017 in Longwood Lake Brantley High School Promoter Rick Perre:
1st Place Open
1st Place Novice
1st Place male physique overall
1st Show May 6, 2017 in Ormond Beach Promoter Bill Mora:
3rd Place Open
3rd Place Novice

BIO: LaDarrius Cortez Sanders is a proud father of a son, husband, MBA graduate, song writer, Minister, Bank Branch Manager, real estate investor, entrepreneur, and public speaker.

He is a strong believer in Philippians 4:13 that states, "I can do all things through Christ, who strengthens me." He strives to build a legacy for his family while setting a positive example for others looking to find success and to show them how to reach any goal through faith.

As a child he was exposed to Arnold Schwarzenegger movies, muscle magazines, and a runway model in his early 20's which brought him to this stage today. He is very competitive and strives to achieve greatness. He is blessed to have the physical ability to stand before you all among these amazing athletes.