NGA - PRO ATHLETES GALLERY
Welcome to the NGA Pro Athletes Gallery
Long time NGA show promoters, Francine and Andrew Bostinto, welcome men and women athletes to share their accomplishments. Andrew is president and founder of the National Gym Association (NGA).
Congratulations from all of us at NGA to you!

>>> back to NGA Pro Athletes Gallery. See NGA GALLERY FORM to join... it's free!
Steven Rice - Pro Male Physique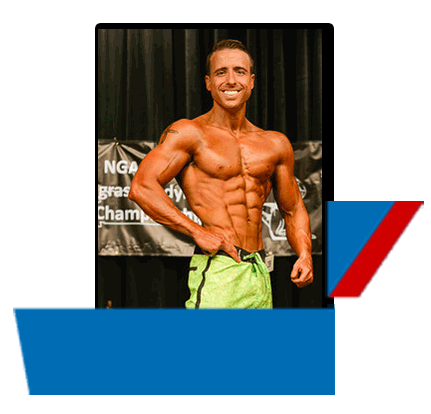 Steven Rice - Pro Male Physique
Personal: Single, no children
Place of Birth: Winchester, KY
Email: stevenr868@yahoo.com
Website: www.instagram.com/riceman_fit
Facebook: srrice
State (residence): Kentucky
Available For Posing Exhibitions and/or Seminars: Yes
Occupation: IT Specialist
Hobbies: Bodybuilding, hiking, video games
Favorite Movie: The Fighter
Favorite Actor: Christian Bale
Favorite Band: Tool
Favorite Performer: Michael Jackson
Food: Pizza
Favorite TV Show: Game of Thrones
Pro Athlete Training since: 2006
Year Turned PRO: 2015
Stats: Height: 5' 7" Weight: Preshow 175 Weight: Show 150
Education: College Graduate
Best Body Part: Delts
Most Challenging Body Part: Tricep
Favorite Exercise: Pull-ups
Least Favorite Exercise: Deadlifts
Traits You Admire Most In Others: Dedication, willingness to help others
Traits You Admire Most In Yourself: Dedication, loyalty
WINNINGS/PLACINGS:
2014 NGA Kentucky Natural Classic, 1st Place Class A
2015 NGA Kentucky Natural Classic, 2nd Place Class A
2015 NPC Kentucky Derby Festival, 4th Place Open A
2015 NPC Kentucky Derby Festival, 1st Place Novice A
2015 NGA Bluegrass Bodybuilding Championship, 1st place
Class A and overall champion
2015 Tricky Jackson Classic, 3rd Place Novice A
2015 Tricky Jackson Classic, 2nd Place Open A
BIO: I started lifting at age 24. I had always been the skinny kid, and I was getting out of shape quickly. I started going to the gym to feel more confident. I work as an IT admin by day but my true passion is fitness. I am blessed to be able to look forward to something I am really passionate about each day. The best part is being able to inspire and help others. It means so much to me when someone asks me for advice or tells me I inspire them. To always put God first in everything and to motivate and help others in their fitness goals is my motivation.